Pallet Inverter – This machine is the flexible automation options:
This standard method for pallet changers is the flip and tilt method. Turnover units are ideal for unusual or irregular formats of the palletized loads as there is no performance delay and loss of the products safety even with pallets of different sizes or overhanging loads. This method is also suitable for bagged goods or large bags such as ton bags, and for poor quality pallets.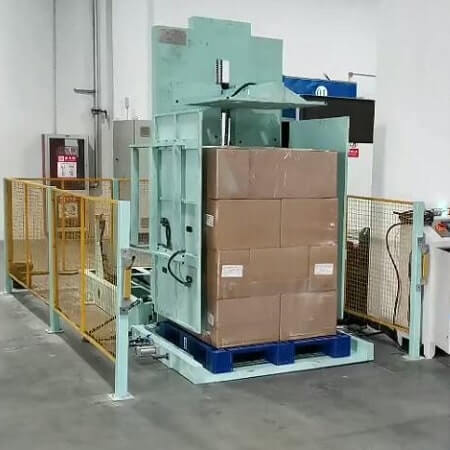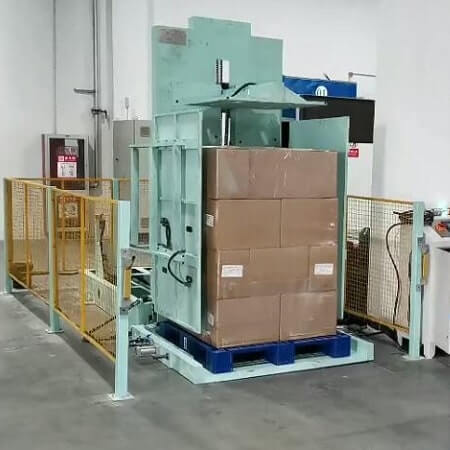 The palletized load is tilted from 90° to 180°, which also allows a high output of up to 55 changes per hour. If you are interested with this handling method, please contact us for an individual consultation and we will determine your pallet turner needs and advise you on suitable products. Of course, if you want to use multiple products and reduce the cost of purchasing equipment, we can also provide you with hybrid solutions or complete systems.
Pallet changer with clamping handle method:
The biggest characteristic is this machine can re-palletize sturdy goods quickly and inexpensively. This pallet changer is using the clamping method, clamp the palletized loads firmly from both sides. The tray is then lowered and then can be easily replaced with a new one afterwards. This handling method and this designing is the easiest and cheapest way to replace pallets. But it has certain requirement of the application of the palletized loads on this machine.
Requirements: The goods must be strong, pressure-resistant and tightly packed.
The clamping method is ideal for pallet changing of cartons or boxes at the bottom without unstacking the whole loads. It is also often used to replace severely damaged pallets. The clamping method is the simplest way of pallet changing and particularly suited for robust goods.