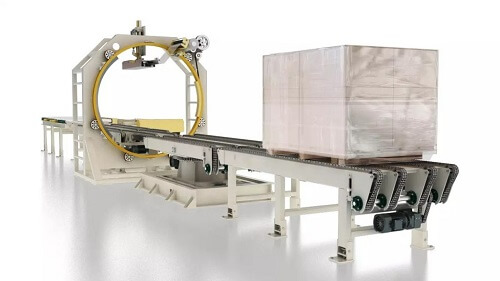 Gypsum board is a widely used material for construction and decoration, the material is easy to produce and the raw material is available to found everywhere in the world with large amount. Based on the huge demand and reliable supply of the raw material, therefore the capacity of the gypsum boards production is massive. One difficulty of it is the package of this board products.
The manufacturers usually will have the gypsum boards stacked in the large bundle with layers which may over 100 pieces. Workers will need to wrap the large bundle with stretch film. In order to avoid possible damage from water during the transportation and moisture from the warehouse, the boards bundle requires to be fully wrapped from 6 sides all. So, this stretch wrapping by hands could be really tough to accomplish.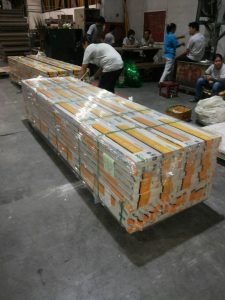 Our large size orbital wrapping machine maybe is the best machine for packing this huge bundle of gypsum boards. This horizontal orbital stretch wrapping machine has a large ring for the successful go through of the gypsum boards. The rotatable film carriage can change the direction for both horizontal stretch wrapping and vertical stretch wrapping. Automatic wooden blocks feeding for adding the timber under the gypsum boards. Six sides stretch wrapped package is the most suitable package for gypsum boards and panels.
It's might be the best and most suitable packing machine amoung gypsum boards wrapping and packing machineries.