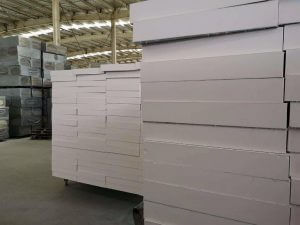 One of the most effective sort of rigid insulation boards is the phenolic insulation boards. Manufactured by a process the phenolic insulation board has an insulating core which formed by plastic foam between two flexible facing layers.
The rigid phenolic insulation made by high solids with phenolic resin, mixed and has a surface acting agent. Massive small bubbles are created in the material as much heat is made because of the reaction and it evaporates a volatile liquid blowing agent inthe mixture. Thin sheet material is then made by a continuous process, laminated together with different facings and cut into a certain size. The phenolic boards can be laminated with aluminum foil facing or glass tissue facings and plasterboard.
For the using of the boards, usually they are stored at the building area and which is outside. Both dust and rain can damage and ruin the boards. To keep the phenolic insulation boards clean and dry, Emanpack provides both shrink wrap machine and orbital stretch wrap machine for packing the boards and panel. The wrapped boards are in bundles and tight wrapped, the shrink wrap machine can fully wrap the bundles which is able to resist rain and vapor.