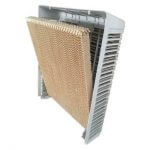 Known as cellulose or Celldek pads, the evaporative cooling pads mostly are made of cellulose which is corrugated paper and glued in the opposite sequence. It generates air passage through the pads. This evaporative sheet has the good and perfect ability for absorbing the water and is chemically treated to prevent disintegration. The evaporative cooling pads are a great help to save energy and it's environmentally friendly. Without any gas emission this material is very economically viable for reducing environment temperature.
As the huge demand of this environmental material, the package is also important for the production and selling of this product. It needs to be both effective to protect the products without damaging from all kinds of possible risks, but also need to be effective which is fast enough to catch up the speed of the production and sales.
Emanpack has sleeve shrink packing machine for wrapping the cooling pads and sheets. This thermo shrink packing machine can pack the bundles of cooling pads and sheets continuously without any break. The shrink wrapped package is tidy and tight to against dust and rain as well as stain and scratch during the transportation and storage. The wrapped cooling pads are easy to sell and available to store for a long time.