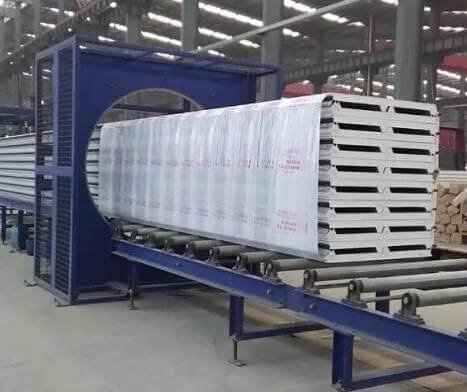 MDF is a porous material which should avoid moisture and vapor because it can be deteriorate if meet with water. So the MDF is not an ideal material for outdoors use. Manufacturers usually will prime and seal the MDF first if they are suspected to come into contact with water and moisture.
But what about the storage, how can we protect the MDF products if the environment is damp? Maybe our orbital stretch wrap machine and shrink wrap machine can be solutions and answers to this questions.
The orbital stretch wrap machine can wrap the MDF bundles from 4 sides, leaving 2 ends exposed. But if add top film dispenser, the bundle will be covered with a layer of bubble film or PE film. The package will be fully sealed and wrapped.
The shrink wrap machine is usually for single or thin MDF bundle packing, it will seal the two ends of the bundle, then shrink the package by heat oven, the two sides will be pressed by side rollers. Another type which the machine adopts side sealers for sealing the two sides before shrinking. the eventual package is truly sealed and very tight.