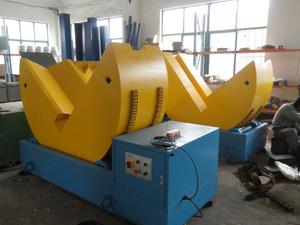 The Electrical and hydraulic coil turner machine can adapt to the engineering turnover requirements of different specifications of commodities, and provide safe, smooth and effective process transportation. It is widely used in metallurgy, stamping, sheet metal, mold, papermaking, refrigeration, steel strip, coil, machine barrel, coil and other industries.
Features of the machine:
Machine frame and steel material: The main strucure is made of high-quality steel to Ensure the equipment is stable and not deformed.
Operation: 90 degree flipping angle, Convenient, labor-saving and safe mold opening and closing.
Electrical: High-quality electrical components,integrated distribution box, easy operation and safe use.
Motor and power transmission system: Adopt high-quality power motor,strong power,stable turning.