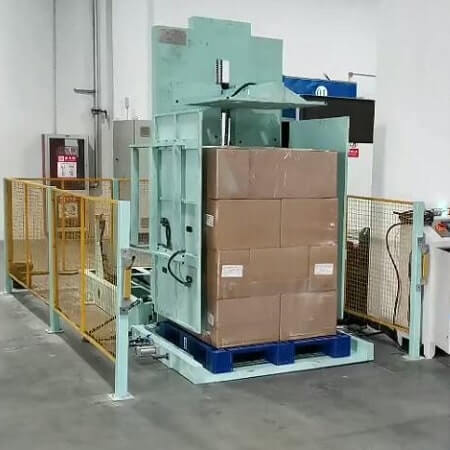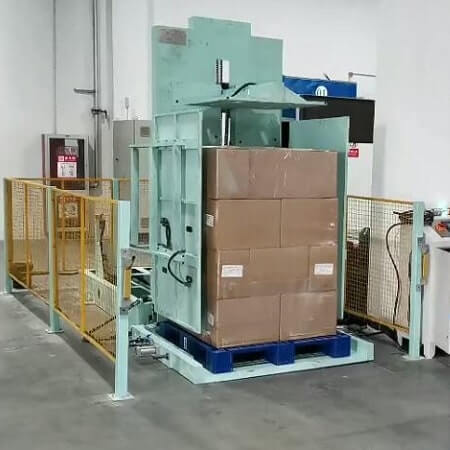 If you are an investor who looks for a pallet handling machine to be fit with your limited space in a small workshops, our pallet changer FZ-PE should be the most suitable solution for you to handle the pallets ergonomically close to your working floor. It doesn't matter whether your pallets are good or in poor condition, it will just to be tilted backwards 90-110 degrees into the corner. Empty pallets will swing back to the floor level which operator can easily exchange it by a pallet jack without bending themselves. After placing a new pallet, the whole load will be tilted back with goods palletized on pallets. The whole work is very user friendly and safe, it could not be more convenient to changing pallets by using this machine than pallet inverters. Generally, the capacity of this pallet changer FZ-PE is 10-20 times per hor which depends on the speed of operators.
Key features of this pallet changer:
Flexible tilting method with side panels and top clamp;
Good for drums and other unsecured goods;
Reliable even with bad pallet quality & variant pallet dimensions;
Loading on floor level for hand pallet truck;
Easy alignment for the palletized goods.
This machine realize the pallet exchanging by backward tilting movement 90-110 degrees, the machine's design has included side walls and top press platen which is an ideal machine for unsecured goods. For instance, the drums, sacks and ton bags. The goods are clamped from the top direction and two sides before tilting. The bottom platen is available to do swing action and this means the manual pallet lifting and moving is unnecessary, all the work can be down with the help from a pallet truck.
Machine's specifications:
| | |
| --- | --- |
| Performance: | 10 – 20 changes/h |
| Dimensions (L x W x H in mm): | 5200x3500x3390 |
| Top press platen: | electrically driven |
| Pallet clamp/side walls: | pneumatically driven |
| Feeding & discharging: | pallet truck, forklift etc. |
| Power supply: | 4 kVA – 16A 380V |
| Machine weight: | approx. 3900 kg |
| Load capacity: | up to 1500 kg |
| Pallet dimensions (W x L in mm): | 800 – 1000 x 1200 |
| Load heights: | max 2000 mm |