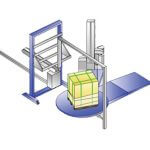 It's common to see wrapping a pallet manually by hands with stretch film/wrap, but there are many drawbacks of the manual stretch wrapping process. First, it's definitely a tiring job for doing the manual wrapping. Second, the manually wrapped cargo is very loose which scatter may happen to it during transportation and storage. Third, the manual wrapping costs too much stretch film, it's a huge cost for the wrapping material every year. Fourth, the manual wrapping process is too low, which costs too much time.
To enhance the wrapping capacity and make better package of wrapped cargos, Emanpack provide pallet packer, it's a specially pallet stretch wrapping machine for wrapping pallet loaded cargos. The machine can both increase the wrapping speed and use less stretch film as it's function of pre-stretch. The pre-stretched film will shrink within 1 minutes after wrapping, and this can make the package much more tight.
The biggest strength is this pallet packer can avoid back injuries for the workers as there is no more need for bending and walking all the time.