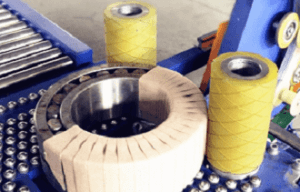 The bearing wrapping machine is specially designed for bearing wrapping and packaging, and is widely used in the rust-proof packaging treatment of industrial bearings. The packaging material can be stretch film, composite paper or woven tape, and UVI anti-corrosion packaging film. The horizontal type bearing wrapping machine is available to connect with the coil upender for fully automatic bearing wrapping and turn over.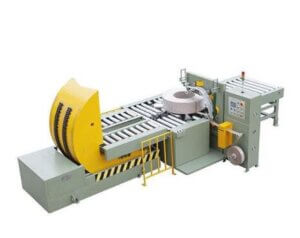 Basic Features of this horizontal bearing wrapping machine:
1. Highly automated; safe and convenient operation.
2. The overlap ratio of the packaging tape can be adjusted by the frequency converter.
3. The horizontal height of the main wrapping board can be adjusted up and down according to different coil sizes.
4. The tension of the strapping can be adjusted.
5. The upper and lower support rollers are used to fix the ring body.
6. The support roller is covered by polyurethane, a kind of wear-resistant and damage-resistant material, which protects the machine and the surface of the product from being scratched.
7. The independent material rack and cutter device make the packaging more effective.
8. Automatically cut packaging materials during wrapping.
9. PLC and HMI system can be used for automatic program setting.