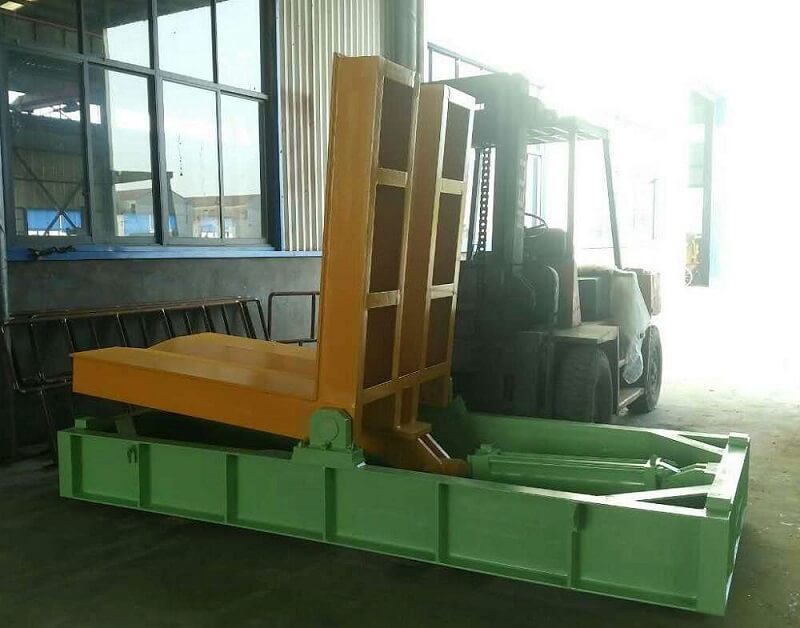 The system of the steel coil tipper/ turnover machine is set up for each hydraulic actuator (hydraulic cylinder) of the tumbling machine to realize its action requirements. The pumping station is equipped with three main pumps (one of which is standby) and one circulating pump to supply oil to the system q. Before the main pump is started, the circulating pump must be started. In order to improve the reliability of the system and prevent the oil temperature from being too high.
Equipped with bypass filter and water cooler. The pressure line is equipped with a filter, and the filter has no pressure.
Differential alarm device, when the filter element is blocked, the differential pressure alarm device will alarm. The oil tank is equipped with a liquid level controller, a temperature controller, an electric heater, a ball valve, etc., to display the temperature of the oil, the level of the oil in the tank, and control the heating of the oil. The whole system controls the hydraulic cylinder through the electromagnetic reversing valve.
This new type of steel coil turnover machine can be used not only for cold-rolled coils, but also for hot-rolled coils, which also can be used as a reference for the development and design of similar products.
We want to share you more knowledge and study of this turning equipment by the description of the working principle, performance indicators and main design links of the engineering application of the tumbling machine, and systematically analyzes the composition, design principles and equipment characteristics of the equipment's mechanical, hydraulic and electronic control systems.